Chris Chui, D.D.S.
---
General Dentistry & Dental Sleep Medicine Specialist
---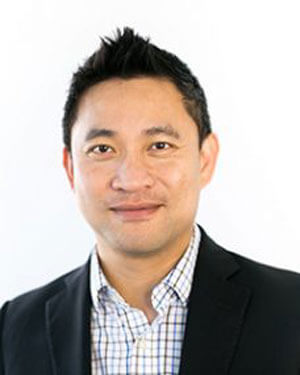 Dr. Chui is one of a select number of dentists who are double Boarded in Dental Sleep Medicine with the American Board of Dental Sleep Medicine and the American Sleep and Breathing Academy.
---
A graduate of UC Berkeley with a Bachelor of Science in Chemistry and of UC San Francisco as a Doctor of Dental Surgery, Dr. Chui has been continuously recognized for his stellar work and genuine patient caring, receiving prestigious accolades such as KRON4 News Best of the Bay Dentist and America's Top Dentist. He is also a Fellow of the International Congress of Oral Implantologists as well as a Fellow of the International Association of Physiologic Aesthetics. A recipient of many honors and awards, Dr. Chui has been a guest lecturer at universities and at conventions and has been featured on The Dr. Oz Show as an expert in Dentistry.
Certified as a Qualified Dentist by the American Academy of Sleep Medicine to treat sleep apnea, Dr. Chris Chui is a general dentist with extensive experience in the subject of Dental Sleep Medicine. He has successfully treated numerous patients with snoring and sleep apnea issues. He utilizes the latest technology and the most up-to-date dental appliances to tackle the patients with sleep issues that a lot of Primary Care Providers and Board Certified Sleep Physicians could not treat.
Dr. Chui strongly believes in providing his patients the most recent and advanced technologies and treatments and has successfully completed specialized courses in dental implantology, cosmetic dental procedures, laser dentistry and orthodontics, including Invisalign®. Dr. Chui utilizes his experience and education to strive for total wellness for each patient while caring for both the dental and overall health concerns of his patients.
---
Dr. Chui is a Diplomate of the American Board of Dental Sleep Medicine.
---
The U.S. Department of Veteran Affairs recently appointed Dr. Chui the Clinical Director for the Dental Sleep Medicine Program at the San Francisco VA Hospital. He will also be teaching there for the General Practice Residence program for both medical and dental residents in the hospital.
---
Professional Affiliations
---
President; Northern California Academy of General Dentistry (Current)
Vice President, 2015-2017; Northern California Academy of General Dentistry
Board of Directors;  American Sleep and Breathing Academy (Current)
Board of Directors;  International Academy of Sleep (2015-2016)
Qualified Dentist Designation; American Academy of Dental Sleep Medicine (2017)
Keynote Speaker on Dental Sleep Medicine, 2017; International Congress of Dental Medicine, New York
Owner; United Dental Group (1998-2015)
Founder of Bay Area Sleep Apnea Solutions
The Dr. Oz  Show , ShareCare Program as an Expert in Dentistry
American Academy of Sleep Medicine
American Academy of Dental Sleep Medicine
Keynote Speaker, 2017; World Congress of Dental Medicine
Dental Sleep Masters
Lecturer, University of California, Berkeley
Lecturer, University of California, San Francisco
American Dental Association
California Dental Association
Academy of General Dentistry
Southern Alameda County Dental Society
International Association of Physiologic Aesthetics
American Academy of Cosmetic Dentistry
Alumus, Las Vegas Institute for Advanced Dental Studies
World Clinical Laser Institute
American Academy of Implant Dentistry
International Congress of Oral Implantologists
American Association for Functional Orthodontics
Lifetime Member, United States Dental Institute
Straight Wire Advanced Study Group
Xi Psi Phi International Dental Fraternity
Fédération Dentaire Internationale (FDI), World Dental Congress
Invisalign® Align Technology
---
2019:      Diplomate; American Academy of Dental Sleep Medicine
2017:      Qualified Dentist Designation; American Academy of Dental Sleep Medicine
2016:      Diplomate;  American Board of Sleep and Breathing
2014:      Fellow; International Association of Physiologic Aesthetics
2012:      Master, Academy of General Dentistry
2012:      America's Top Dentist (General/Cosmetic and TMJ Care)
2011:     Fellow; Las Vegas Institute of Advanced Dental Studies
2009:    KRON4 News "Best of the Bay Dentist," San Francisco
2007:     Fellow; Academy of General Dentistry
2006:     Associate Fellowship;  World Clinical Laser Institute
2006:     America's Top Dentist (Cosmetic and Family Dentistry)
1997:     George Alfred Hughes, DDS Award for Removable Prosthodontics, University of California, San Francisco
1997:     The Newell Award for Initiative and Determination Through Dental School, University of California, San Francisco
1997:     American Academy of Gold Foil Operator, University of California, San Francisco
---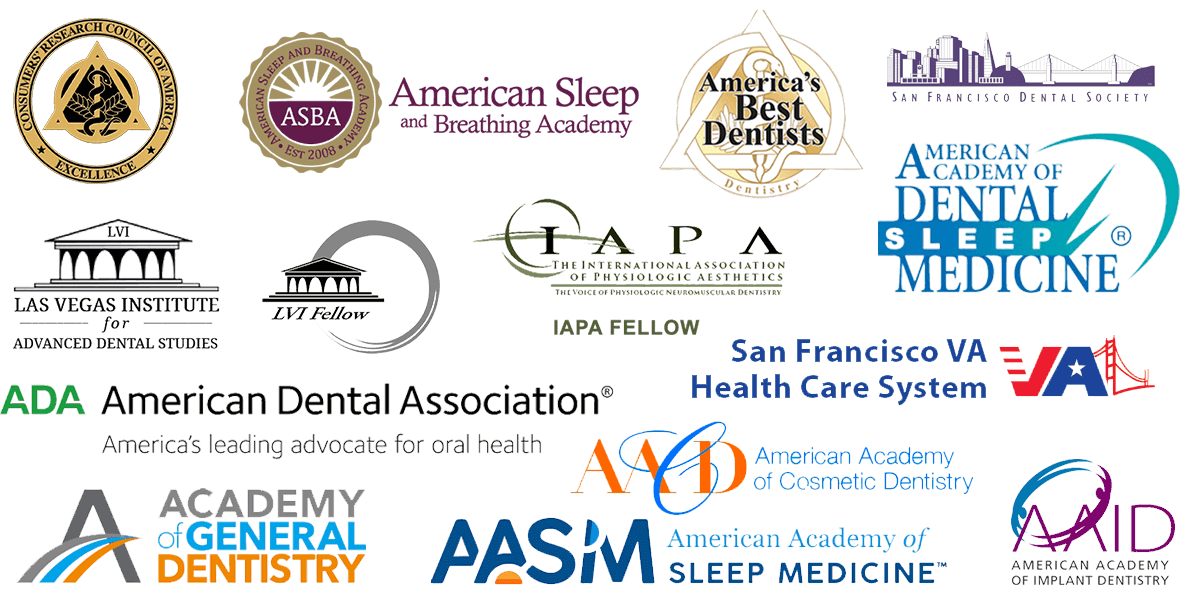 ---