Invisalign in San Francisco
---
San Francisco Dental Wellness provides Invisalign in San Francisco, CA. Call 415-781-1944 to learn more and schedule an appointment.
---
What are Clear Aligners?
---
For decades, the only way to straighten teeth was with metal braces. Today, we have more options, and one of the best is Invisalign. The Invisalign system swaps metal brackets and wires for clear, comfortable plastic aligners. Although Invisalign isn't suitable for some complex orthodontic cases, it is just as effective as braces for the majority of patients, with none of the hassles!
Invisalign begins by taking digital impressions, which are used instead of trays and messy impression material to make impressions more accurate and comfortable. We create a three-dimensional model of your smile using these impressions, which we utilize in treatment planning and predicting what your smile will look like once your Invisalign treatment is complete.
Wear your aligners for a minimum of 20 hours a day, then replace them with a new set at home every two weeks (or as directed) until your teeth are straight. You'll visit our office every 6 to 8 weeks so we can monitor your progress and ensure that your treatment is on the right track. After your last set of aligners, you'll be given a set of Vivera retainers to maintain your results for a lifetime!
---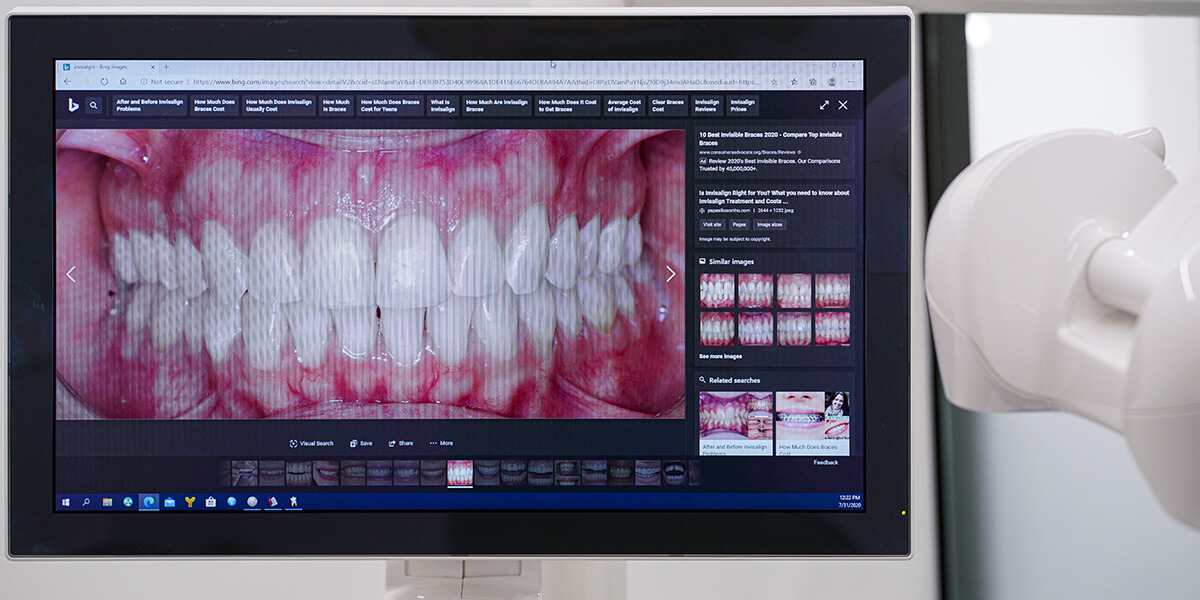 ---
Benefits of Clear Aligners
---
Convenience
Straightening your teeth has never been easier thanks to Invisalign. There are no food restrictions, fewer office visits than with traditional braces, and you can brush and floss your teeth easily since your aligners can be removed.
Discreet Treatment
No one will notice you're wearing Invisalign aligners because they're virtually invisible.
Comfort
Invisalign aligners are more comfortable than braces because they are made with a smooth, clear BPA-free plastic that is shaped to the contours of your teeth.
---
Are You a Good Candidate for Clear Aligners?
---
Most patients who wish to straighten their teeth can benefit from Invisalign, however there are some circumstances where braces are the best solution. The only way to find out if you're a candidate for clear aligner therapy is to book a consultation.
---
Why Choose San Francisco Dental Wellness?
---
Our practice uses advanced digital dentistry technology in our Invisalign treatment planning, ensuring that your orthodontic treatment is as efficient and effective as possible.
---
FAQs
---
How much does Invisalign cost?
Invisalign costs vary depending on your orthodontic needs, as more complex cases will require more aligners and a longer treatment time. When you come to our office for a consultation, we'll provide you with an estimate of your out-of-pocket costs.
What's cheaper, braces or Invisalign?
This, too, is determined by your orthodontic needs. Braces and Invisalign are usually comparable in price; if there is a difference, it is usually small, and most patients feel that the advantages of Invisalign outweigh any potential cost difference.
Is Invisalign as effective as braces?
Yes, Invisalign is just as effective as braces for the majority of patients. Invisalign aligners, like braces, apply gentle pressure to the teeth to slowly move them over time.
How long will Invisalign treatment take?
The amount of time needed for Invisalign treatment depends on the complexity of your case and your compliance with treatment. If you take off your aligners often and leave them out for extended periods of time, your treatment time will be extended.
---

---

---