Insurance San Francisco Dental Wellness
---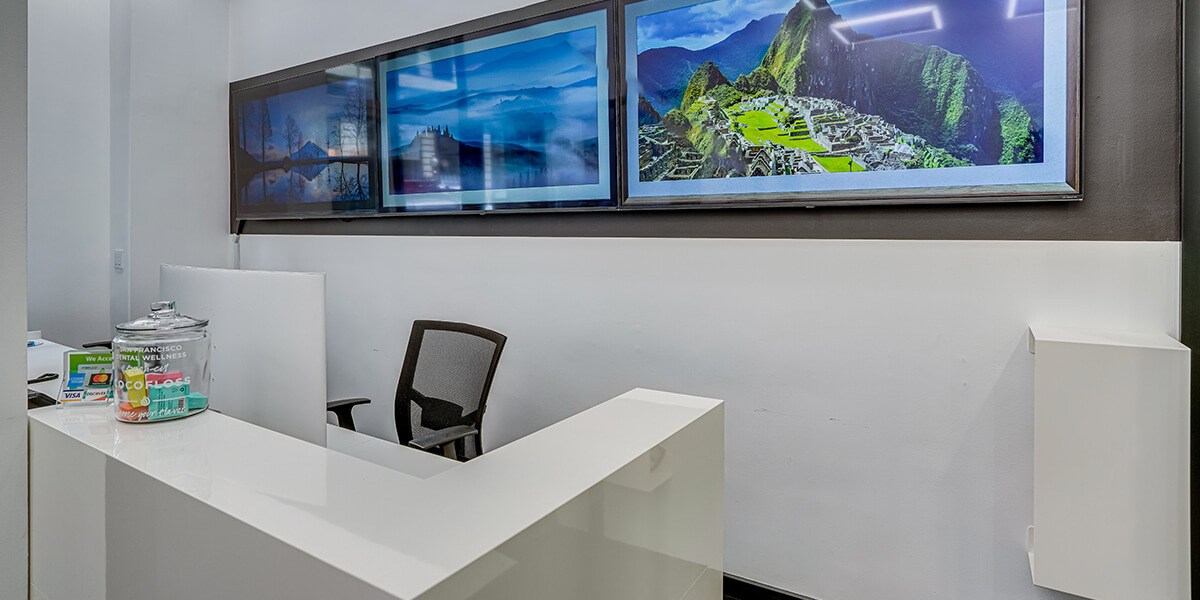 ---
Dental Insurance
---
San Francisco Dental Wellness provides assistance with your dental insurance. We also provide our own in house Kleer insurance plan. Call 415-781-1944 or contact us today for questions about insurance. 
How Dental Insurance Works
You may have dental insurance that is provided through your employer or you may purchase your own private dental insurance. Basic dental insurance plans typically cover routine cleanings and exams every 6 months, X-Rays every year, and a portion of some restorative procedures, such as fillings. Premium dental insurance plans may cover more complex dental procedures, but the cost of the insurance will be higher. 
Some plans include copays that are required at the time of service. Most plans include deductibles that affect the percentage of coverage for certain procedures. The best way to understand what your dental insurance plan covers is to contact your insurance provider.
In Network vs Out of Network
We are in network with many dental insurance providers, meaning that the cost of certain procedures has been pre-negotiated at a lower rate than what is offered to out of network plan holders. Going to a dentist that "accepts" your insurance is not the same as an "in network" dentist. We accept most major dental insurance providers and plans, meaning we will bill your insurance provider for any dental procedures you receive, they will pay whatever portion they have agreed to cover based on your plan, and the remaining balance will fall to you. 
No Insurance?
If you don't have dental insurance, don't worry.  We can get you covered with our very own Dental Insurance Plan.
Your Financial Responsibility
You are responsible for the cost of any portion of a procedure that is not covered by your insurance. If you need assistance with paying out of pocket costs, we recommend CareCredit, a credit card that is designed to cover medical expenses. CareCredit offers a promotion with no interest as long as the balance is paid in full by the end of the promotional period. 
We Believe Everyone Deserves Quality Dental Care
At San Francisco Dental Wellness we believe that all patients, regardless of financial status, deserve quality dental care. We will work with you to make your dental care affordable and to provide you with a range of payment options to work within your budget.
---
Frequently Asked Questions
---
Does Insurance Cover Cosmetic Dentistry?
---
In many cases dental insurance doesn't cover cosmetic dentistry. However, when there is a dental health or medical need for a dental procedure that is typically considered cosmetic, it may be covered in that particular instance. The reason for the procedure is what matters.
Are Sleep Apnea Appliances Covered by Dental or Medical Insurance?
---
Oral appliances for sleep apnea may be covered by some medical insurance plans because sleep apnea is considered to be a medical condition. It affects your quality of sleep and overall health more so than your dental health.
How Can I Find Out What My Dental Insurance Plan Covers?
---
The best way to know for sure is to contact your provider or to refer to the benefits guide you were given when you signed up for your current plan. Be sure you are interpreting the guide correctly, because the explanation of benefits can be lengthy and complex. If you want to know if a specific procedure or treatment is covered by your plan, it would be best to contact your provider and ask.
Does Dental Insurance Cover Orthodontic Treatment?
---
Some dental insurance plans do cover orthodontic treatment, such as braces or Invisalign. Coverage usually comes in a one time lump sum that can be applied to your treatment as long as it is approved by your insurance provider. Again, contact your provider with specific questions about your coverage. 
---